Most women avoid attending any event during their pregnancy. It is not desirable because you should enjoy all events in your pregnancy by adopting a few precautionary steps. Weddings are always a source of happiness and gathering, so most women love to attend weddings. If you have to attend a wedding ceremony during pregnancy, you must think about the best formal dress option that will go well with your bumpy figure.
It is not easy to attend a long wedding event for a pregnant lady. You must try to wear breathable materials to feel comfortable the whole time. Here you will get different ideas of the best formal maternity dresses for wedding guests, so have a look below.
Long gowns
A-line satin tuxedo gown
Lace gown dress
Floral lace maternity cocktail dress
Flared skater cocktail dress
Jumpsuits
High-waist pants
Long gowns In Maternity For Wedding Guest:
Long gowns are the best formal dresses to attend a wedding. So for a pregnant woman, it is also desirable to choose the following long gowns.
Sleeveless Formal Flowy Maternity Gown for Festival
A sleeveless formal flowy maternity gown is ideal for a summer wedding. It is made of high-quality soft fabric that is stretchy and comfortable. You can wear a plus-size gown to hide your baby bump with style.
A-line Satin Tuxedo Gown for Wedding Guest
An A-line satin tuxedo gown is another great idea for a pregnant lady to attend a wedding in a formal dress because it will flatter her body comfortably. This dress comes with multi-needle stitching detail at the lapel, zip closure at the back, and a side seam zipper.
Lace Gown Dress in Pregnancy
A lace gown dress will help you look great at a wedding if you are pregnant. This gown has scalloped edges and embroidered sheer back so that you will feel confident in it. You can choose any favorite color in it according to the theme of the wedding.
Cocktail dresses In Maternity For Wedding Guest:
A cocktail dress is perfect for an evening affair. It looks best on pregnant ladies. So you can go for any of the following cocktail dresses to attend a wedding.
Floral Lace Maternity Cocktail Dress
A floral lace maternity cocktail dress will give you the perfect looks at a wedding. The knee-length of this dress with pull-on closure and lightweight lace will fit your body with style.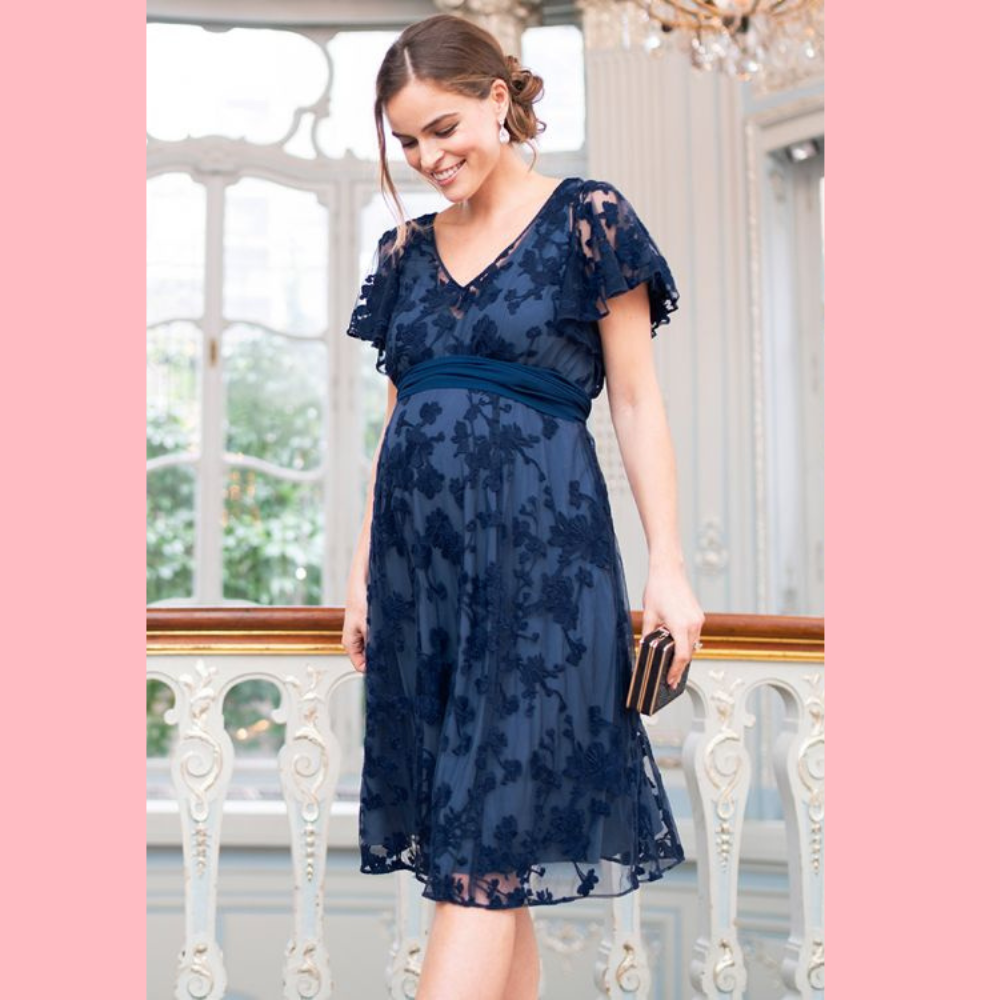 Flared Skater Cocktail Dress in Pregnancy
You can also wear a flared skater cocktail dress at a wedding to look unique and attractive. It is a vintage-style dress made of 98 % cotton to provide maximum comfort. Chic cap sleeves, V neckline, adjustable bow tie, and concealed zipper closure make it a perfect choice for a maternity lady.
What To Wear In Maternity To Hide Belly Bump 
Many women try to hide their baby bumps in a wedding guest dress. So you can also think of some informal wedding dress options. High waist pants are also a suitable option if you want to look unique at the wedding. Jumpsuits are also usually worn by pregnant women at a summer wedding ceremony.
Comfortable Shoes Option To Wear In Pregnancy 
There is no need to wear many formal shoes at a wedding if you are pregnant. If you want to wear high heels, then it will build import pressure on your back and knees, so there are more chances that your feet will swell.
You can prefer short heels to give you a perfect wedding guest look, and they are ok with your pregnancy as well.
Flat shoes are more desirable for a pregnant lady at a wedding. But if you are going to wear a long gown, you can wear short heels but keep a pair of flat shoes like sneakers to wear at the end of the wedding ceremony.