In your first 3 months of pregnancy, you need not wear maternity clothes as you can go conveniently with those regular dresses that are not too tight. Nobody can judge you are pregnant in the first 3 months.
After your 3rd month, you should consider wearing maternity clothes, but if you can't afford them, there are different ways to help you get free maternity clothes. You can borrow or get them free from different websites without spending even a single penny.
How Do I Get Away with not Buying Maternity Clothes?
By following these tips, you can avoid buying maternity clothes.
1.Borrowing from Family and Friends:
You are not the first pregnant woman, so you can get them quickly by borrowing from family and friends. Maternity clothes are primarily used inside the home, so you will get these dresses from family and friends in excellent condition.
Most pregnant women do not wear maternity dresses after giving birth to a baby as they are more prominent. So it is not difficult to get these dresses free of cost from them.
2.Explore Different Social Websites:
There are different social websites where people offer free maternity clothes so that you can check all those options. You can also join community groups online that offer such free clothes to pregnant women.
Can You Go Through Pregnancy Without Maternity Clothes?
Yes, You may have many wearable options in your wardrobe to help you get through pregnancy without maternity clothes. You can add minor modifications and make them the perfect dressing for your pregnancy. your regular clothes will still fit you for the most part during pregnancy. You may not be able to wear your skinny jeans or tight dresses, but loose-fitting clothes will still look great on you.
You can wear a few dress options instead of maternity clothes.
Loose Tops
Adjust Pants with a Belly Band
Long Sweaters
Partner's Dresses
Maxi Dress
1.Loose Tops:
Almost all women have tops in their wardrobes. So, wearing these tops will be a great choice if you want to go through pregnancy without maternity clothes. Choose loose tops that are capable of making your tummy breathable. It will not only help you in getting well through your pregnancy, but you will also be able to save money.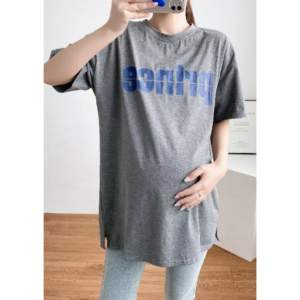 2.Adjust Pants with a Belly Band:
You can adjust your pants by extending their waist and wearing a belly band to accommodate the baby bump. There is no need to buy maternity pants when you have some loose-fitting pants in your wardrobe. You can buy a belly band at nominal rates that will help you get great looks in old pants.
3.Long Sweaters:
In winter, you have more dressing options if you don't have maternity dresses because you just have to explore the long-size tops and sweaters from your wardrobe. Long stretchy sweaters are great for more space for your tummy and keep you safe from cold.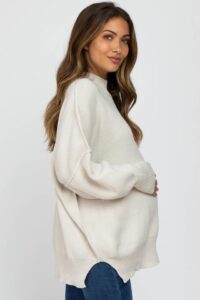 4.Partner's Dresses:
In-home you can wear any dress you are borrowing from your partner so add more fun to your pregnancy with those dresses from your partner's wardrobe you never thought to try. You can easily find big-size T-shirts, sweaters, and loose-waist trousers for fulfilling maternity dress requirements.
5.Maxi Dress:
Most women have a maxi dress to utilize as a maternity dress. Maxi dresses can flatter your body so that you will get perfect looks for formal and informal affairs. In winter, you can add long sweaters or coats to hide your baby bump stylishly.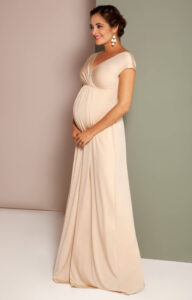 How Much do Mothers Spend on Maternity Clothes?
It depends mainly on personal choice and available budget because two pregnant women will not spend the same amount on maternity clothes. If you are pregnant for the first time, you will definitely spare more budget for maternity clothes as you will feel more excitement. For the second pregnancy low amount is allocated as some of the maternity dresses are also in the wardrobe.
If we talk about the average amount a pregnant woman spends on maternity clothes, this amount will be $50 to $60 per month. So if we talk about the whole budget, a woman will spend almost $500 per pregnancy.
Conclusion
There are a few ways to get free maternity clothes, but it may take some effort. You can start by checking with local pregnancy resource centers or thrift stores that cater to pregnant women. Additionally, you can ask friends or family members who have recently had a baby if they have any clothes they no longer need. Finally, there are a number of online resources where you can find free maternity clothes. With a little effort, you should be able to find the perfect outfit for your growing body.