Jeans look great on women with long legs, so many short women think they should avoid wearing them as they will not look cool. It is a wrong myth because jeans are a fashion symbol that short-heightened women wear.
If you are a shorter woman, you should buy a pair of jeans which give your legs a tall look. There are different jeans available which will fulfill this requirement. Fitting jeans are the most desirous choice for short women because they give an illusion of tall height.
If you are thinking of perfect jeans for short women, you should try any of these options.
A high-rise straight jean is a good option for short women because it flatters every type of body and gives a relaxed look for casual wear.
If you want to try other than fitted jeans, you can also go for wide-leg straight jeans because you can wear them for both day and night plans.
High Waist Jeans for Petite Women
High waist jeans flatter perfectly on a petite woman. So they will give an extended look to your legs. Thus, you will look taller than your actual length. Avoid those jeans which are too high in their rise because they will give a funny look to your upper body and will not be a good choice.
Pull Off Bell Bottoms Jeans For Short Girls:
Pull-off bell bottoms or flared jeans are suitable for short girls and women if you are ok with wide-shape jeans. They are wider below your knees and provide a perfect trouser shape. The drawback of pull-off bell bottoms is that they will not make you look taller. So you can also try the below-mentioned jeans for tall looks.
Straight-Leg Jeans for Short Girls
The simplest way of making your legs taller is to wear straight-leg jeans in the fitting. It will also hide extra bumps on your body and provide you with a relative shape.
Boot-Cut Jeans for Short Girls
If you have an hourglass figure with short legs, then boot-cut jeans will also serve both purposes for you. You will not only be able to expose your figure, but it will also make you look taller.
Top Famous Short Celebrities Wearing Fitting Jeans:
Many celebrities have short legs, but they look great in fitting jeans. Take a look at them below:
Shakira Isabel is fond of wearing fitted jeans, and she knows how to give a perfect look with them.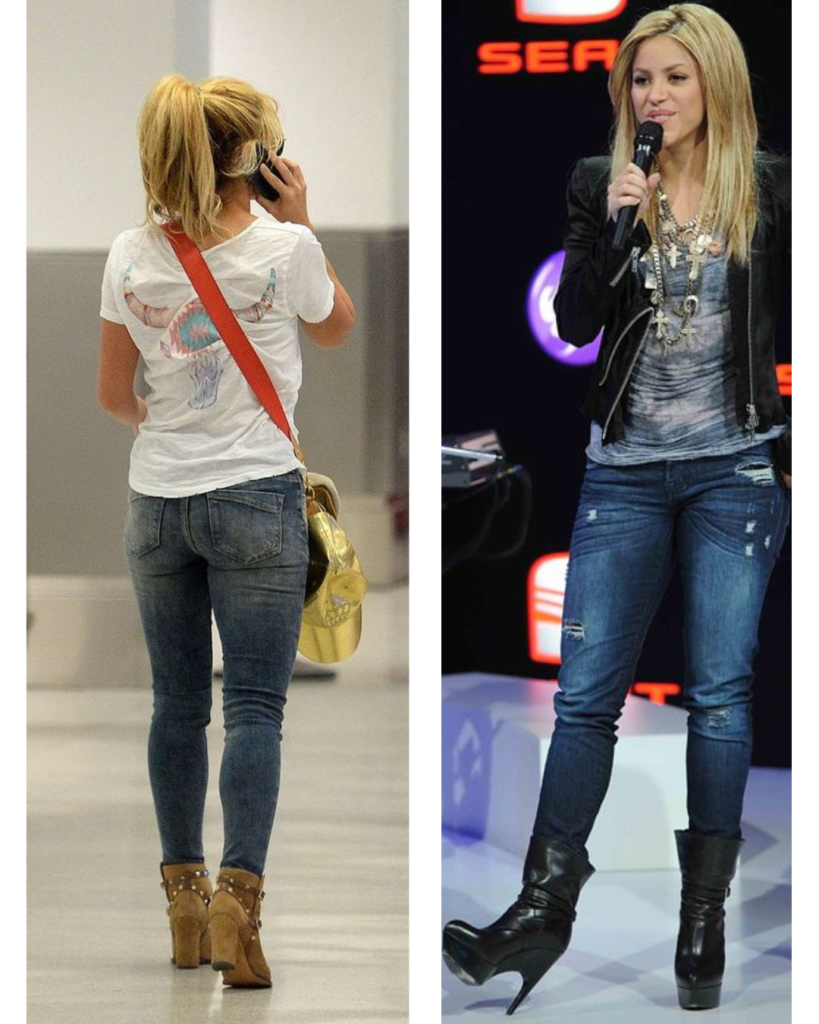 If we talk about American actresses, Vanessa Hudgens is a fashion icon. She is well aware of wearing fitting jeans to give her height of 5 feet 1 inch taller looks.
Reese Witherspoon has a height of 5 feet 1 inch, and she tries to look taller in fitting jeans. She was spotted many times wearing different styles of jeans in the fitting.
Jeans In Which Short Girls Look Tall:
The main goal of a short woman is to look taller and different kinds of jeans can help you in this matter. If you are still searching for the best jeans for short women, try the following options.
Skinny and straight-leg jeans are the first choice for short women to enlarge their looks because they will also help you give your legs a narrowing look with a taller illusion.
If you don't feel comfortable wearing skinny jeans, you can also try wide-leg pants but remember to buy high waist pants.
An ankle-length jeans is also a good option for a short woman as it creates an illusion that your legs are taller than the jeans you are wearing.