A woman's wardrobe is incomplete without a pair of jeans. It does not matter how old you are, you can wear jeans to improve your dressing sense. Jeans are equally suitable for all ages of women so you should try different types of jeans at different ages.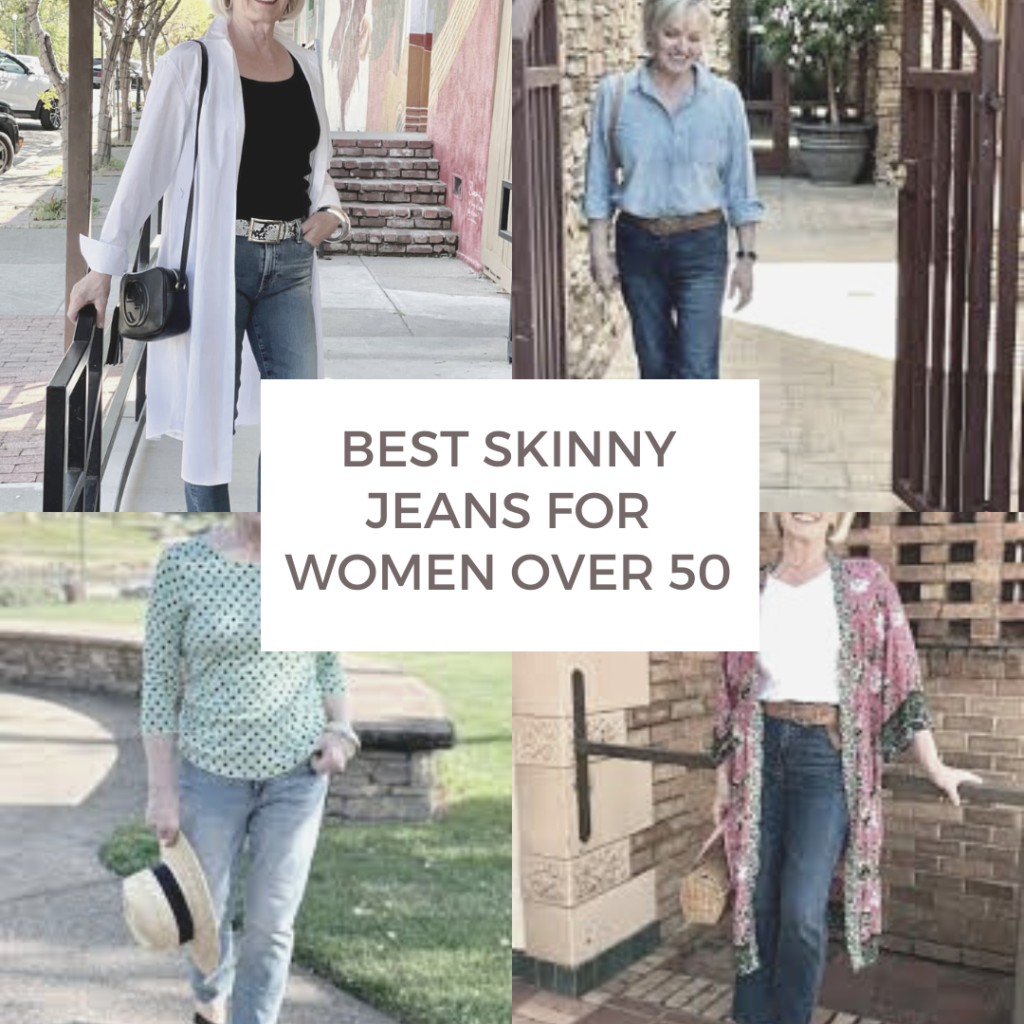 If you are above 50 and thinking about wearing skinny jeans, you should go for it because skinny jeans will transform your complete personality at this phase of age. Skinny jeans flatter best on women over 50, so never think you are too old to wear them.
An old woman can wear almost all types of jeans, but it is better to wear those which look great on your body. Choosing the right pair of jeans according to your physical appearance will be a wise choice. If you have a slim body, you must go for skinny jeans as they will hide your actual age, and you will look like a woman above 40.
You can also wear pull-on jeans, wide-leg trouser jeans, boyfriend jeans, high waist jeans, and flared jeans if you are over 50, but you must know your body type first and choose the best option.
If you have passed 6 decades of your life, it's time to rethink your dress selection and stick to those who make you look decent without compromising comfort. Avoid floor-length dresses as they are hard to carry in this age, especially floral prints. You should not wear elastic waist pants because they will transform your figure into a balloon at this age. Oversized and large shirts are also not an ideal option for you at this age.
Mistakes You Should Avoid if you are 50+
Most women make little mistakes that ruin their whole dressing experience. They make them look older, so if you are over 50, then avoid following dressing options.
If you are aged woman, wearing everything baggy will not make you look cool. You will look more aged in such types of dresses.
Wear some moderate dresses because wearing an outdated dress will make your personality questionable. Similarly, if you plan to try the latest fashion trends, they are inappropriate for your age. So both these options will make you look older than your actual age.
Ripped Jeans over 50:
There is no need to stop yourself from wearing ripped jeans when you have crossed the figure of 50 your age. Ripped jeans can be worn by women over 60 even if you are over 70. Remember that wearing the correct quantity of rips in your jeans will help you look great at such an age. So don't go for those ripped jeans designed for women over 20 and 30.
Maintaining your Essential Wardrobe after 50 years of Age:
After attaining the age of 50, it's time to make the necessary changes in your wardrobe. You can use the following ideas for a basic wardrobe.
Try to equip your wardrobe with comfortable pieces. You can wear stylish outfits that you can utilize for formal affairs only.
Flattering dresses are a must-have item of your wardrobe to give your body a perfect look after crossing 50 years of age.
Mid-rise and dark denim jeans will help you give you a lovely look in your 50s. Make sure that you have a pencil skirt and fitted jacket in your wardrobe.
Try to wear those shoes which are comfortable and stylish. Your feet can swell by wearing the wrong pair of shoes or sandals
Aged Celebrities Wearing Ripped Jeans:
Jennifer Aniston looks extraordinary in ripped jeans because she loves to wear them and looks gorgeous even after 50 years.
Kim Kardashian was spotted in a public place wearing ripped jeans. After attaining the age of 40, she still looks much more attractive in them.
Laura Dern is a famous personality. She knows how to wear ripped jeans after 50 years of age.