Girls always feel extraordinary while wearing a new dress. If you are getting married and have to choose the bridal dress, then it is not an easy task. You have to be noticed especially on your wedding day so you must look your best and for doing so must choose the wedding dress wisely.
Most plus-size brides feel more confused about the selection of bridal dresses. This dress should be stylish and gives an illusion of a slim body. The best choice for a plus-size bride has to wear a flattering wedding dress.
A flattering dress can hide the extra-sized parts of your body, so you look more stylish with your current physique. You can go for any of the below-mentioned wedding dresses that will give you a perfect look on your plus-size figure.
A-Line Wedding Dress for Plus Size Women
A-Line dresses are the best choice for a plus-size bride to look beautiful on her wedding day. You can try a gown that is flattering in nature.
Bohemian Wedding Dress for Plus-Size
You can also try a bohemian plus-size wedding dress that will give you a unique look. Nobody will consider your plus-size figure in this wedding dress.
Tips For a Plus-Sized Bride To Feel Beautiful In a Wedding Dress
Here are a few tips for a plus-sized bride to feel beautiful in a wedding dress.
First of all, you have to feel comfortable with your current physique as you are not the only plus-size bride. So you will get confidence and look more beautiful on your wedding day.
There is no need to expect everything to go perfect at your wedding because it will help you compromise on your plus-size looks.
This is the most important day of your life, so have fun and don't bother your plus-size body.
If you have big arms, you can manage to give them a thinner look with a proper selection of wedding dresses.
First of all, try to buy a dress according to your body type. For bigger arms, you can try full sleeves wedding gown or maxi.
If you still want to wear a sleeveless wedding dress, then go for a dress with a V neckline because it will distract the audience's attention from your bigger arms.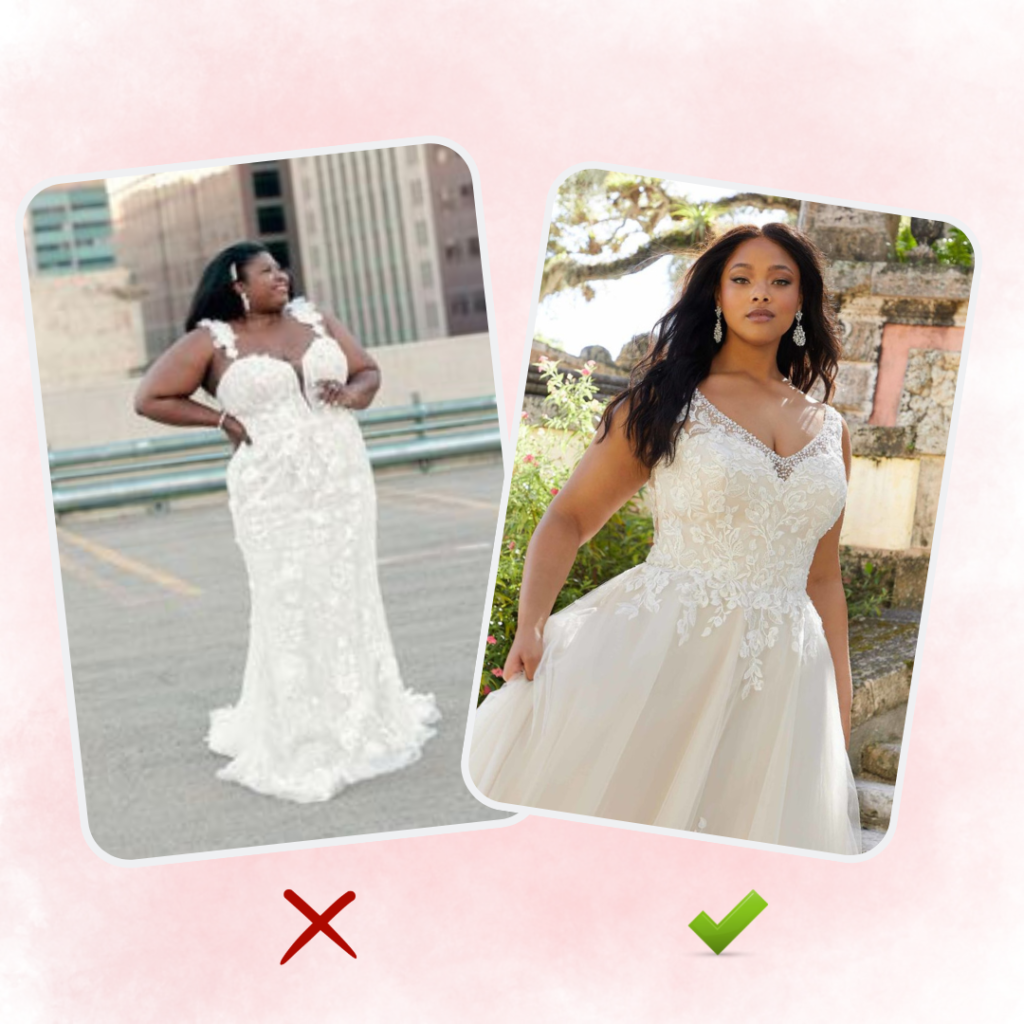 Tips for a Plus Size Bride To Look Skinnier On a Wedding Day 
With a plus-size body, you can look skinnier on your wedding day by adopting these options.
Flowy and breezy fabrics help in giving skinnier looks to a bride so try to wear chiffon, georgettes, and crepes.
Don't go for contrasts and stick to one color family in your wedding dress because it will help you hide extra healthier parts of your body.
Pick a darker color for your bridal dress. Maxis and gowns in a darker color will help you create a skinnier illusion of your body.
What is the Average Price Of Women Wedding Dress
Every bride always thinks about the cost of the wedding dress before finalizing it. It depends upon the nature of the wedding dress. A luxurious wedding dress will cost you between $ 2000 and 4000, but an average wedding dress lies between $ 300 and 800.
A-line plus size wedding dresses:
Most plus-size brides try to wear long sleeves at their wedding. So you can try the following type of wedding dresses.
A-line plus-size wedding dresses flatter best on curvy bodies. You can try a long sleeve off-the-shoulder dress to give a modern look by hiding the bigger size of your body.
Plus Size Short Wedding Dresses
Short wedding dresses are ideal for plus-size brides as they will help you hide your age. Plus-size women look older than their actual age, so short dresses help her to give them a younger look. You can try a tea-length lace smock dress in white or pink color.