Dupes of NARS Tinted Moisturizer
Wet n Wild Bare Focus Tinted Hydrator Tinted Skin Veil Fair
Bare Minerals Complexion Rescue Tinted Hydrating Gel Cream
First Aid Beauty Ultra Repair Tinted Moisturizer
TARTE Maracuja Hydrating Tinted Moisturizer
Neutrogena Healthy Skin Radiant Tinted Facial Moisturizer
About the Original Product
NARS tinted moisturizer is a lightweight product that can efficiently hydrate and smooth your skin. It reduces the appearance of dark spots and hyperpigmentation in just a few weeks. This product contains vitamin C and protects your skin with the help of SPF 30.
You will get 16 different shades of this moisturizer for all skin types. So you can choose the best shade according to your skin tone. This product is rich in antioxidants that help repair your skin, and its oil-free coverage keeps your skin hydrated for a better complexion.
You can get this product for $ 46 from your nearby store or an online platform because it is readily available in many countries. Its creamy formula gives a soft look to your face, and lightweight coverage is also ideal for bringing healthy and natural shine.
Its radiant finish will provide a perfect dewy finish to your skin, and it will glow. So if you have mature skin, then this product is also ideal for you. Its oil-free formula will help reduce any unwanted shine on your skin, and this moisturizer does not contain any fragrance; hence, it is ideal for people with sensitive skin.
NARS-tinted moisturizer is a non-comedogenic product. So it will not clog pores in the skin, and your skin will become more healthy and bright. There are no harmful chemicals in this moisturizer, so you can treat it as a paraben-free product that is ideal for protecting your skin.
Dupes for NARS Tinted Moisturizer with features and their details:
1. Bare Minerals Complexion Rescue Tinted Hydrating Gel Cream:
Bare minerals complexion rescue tinted hydrating gel cream is a dupe for the NARS tinted moisturizer because it is 3 in 1 multitasked product. You will get skin tint, moisturizer, and SPF 30 to give your skin a perfect natural glow and health. Your skin will glow with the help of hyaluronic acid as it boosts hydration for up to 24 hours.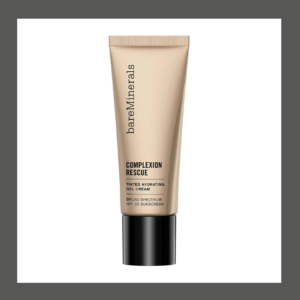 Good Things
This moisturizer has a super hydrating effect on your skin and provides a perfect glow for a long time.
This product provides a smooth texture on your skin because of its lightweight formula, and it just looks like your original skin.
The super lightweight formula that looks like the skin
With the help of SPF 30, you will not experience any sunburn
It is ideal for all skin types and doesn't leave dry patches.
Bad Things
Luckily, this product has no disadvantages, making it a perfect dupe for the NARS-tinted moisturizer.
2. First Aid Beauty Ultra Repair Tinted Moisturizer:
If you have sensitive skin, then first aid beauty ultra-repair tinted moisturizer is an excellent choice if you are looking for the best substitute for NARS tinted moisturizer. Its natural and blend-able coverage is perfect for many types of skin, and you will get a luminous and glowing look due to easy blending.
Good Things
This product contains Spf 30 that will protect your skin from unwanted sunburn
It doesn't clog your pores
This moisturizer dupe has easily buildable coverage with a light tone. It is also free from artificial fragrance, alcohol, and artificial colorants.
It reduces shine.
This product is easy to use, and you can apply this moisturizer to your skin without any expertise.
Its lightweight formula makes it breathable.
This moisturizer is a travel-friendly
Bad Things
Unfortunately, you will get a minimal range of shades.
3. TARTE Maracuja Hydrating Tinted Moisturizer:
Another good dupe you can choose is TARTE Maracuja hydrating tinted moisturizer because this product is formulated without using coal, tar, parabens, aluminum salts, mercury, and other chemicals. You will get fresh skin every time after applying this product.
You will get up to 12 hours of hydration after using this moisturizer on your skin. It has a natural and clean effect on your skin.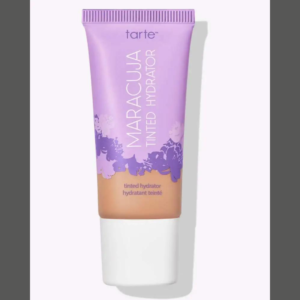 Good Things
TARTE maracuja hydrating tinted moisturizer makes skin hydrated for up to 12 hours
This moisturizer has a lightweight formula that makes your skin breathable and glowing.
This product has sheer coverage and matches your skin tone
Bad Things
There is no SPF included in this product.
This moisturizer feels a little bit greasy .
4. Neutrogena Healthy Skin Radiant Tinted Facial Moisturizer:
Neutrogena is another prominent brand that provides the best moisturizer for your skin. You can use Neutrogena's healthy, radiant, radiant, tinted facial moisturizer due to its many appealing characteristics. You will get a "no-makeup" makeup look with the help of this product, and it will give you flawless coverage for many hours.
Good Things
This nourishing skin radiant tinted facial moisturizer contains Spf 30 sunscreen. It will save you from skin cancer and early aging due to sun and sunburn.
This moisturizer is enriched with vitamins a, e, and c that will help to hydrate the skin by providing a radiant-looking finish.
Due to its lightweight formula, it provides breathable coverage, and it is easy to use as an oil-free moisturizer.
Bad Things
You must blend the moisturizer perfectly on your skin because sometimes it is difficult to blend this product.
Conclusion
You can use tinted moisturizers regularly because they provide healthy and super glowing skin and enhance your outlook without using any foundation. I have not tried any of these dupes but from my research, I found First Aid Beauty Ultra Repair Tinted Moisturizer better than all other dupes because it has great reviews. If your skin tone matches this product, you should prefer it over other dupes. This product is highly economical if we compare it with NARS-tinted moisturizer.