Before finishing your makeup, you can use blush to complete this process because blush can give a naturally flushed look to the skin. Blush is a fantastic makeup product that can completely change your looks by enhancing your complexion.
If you have olive skin, then it is recommended that you always use blush during makeup because it can enhance your cheekbones, and you will get perfect looks within no time.
What is olive skin?
First, you have to be sure about having olive skin because it is a human color spectrum characterized by undertones of yellow or green. Following are the characteristics of olive skin.
It falls between lighter and darker skin tones, but more probably, it is a slightly darker complexion depending upon the background of people.
As it is a slightly darker complexion, it usually lies in the light brown range. This skin tone is mainly found in Romani, Mediterranean, Latin America, and Asian people.
It is naturally tanned skin that is defined as a pale tone of brown and may also result from sun exposure.
All olive skin people do not have the same skin tone because some people are dark while others are pale.
We have commonly listened to warm and cool undertones, but it is quite a different type of undertone as it is neither warm nor cool.
Olive and pale skin tones are significantly different, but people having olive skin tones can quickly transform their tone into pale by avoiding sun exposure.
People's cells in the body of olive skin produce extra melanin, a pigment that provides the color. So if you have olive skin, you can also get tanned quickly.
If you have olive skin, your skin can hide blemishes and imperfections. So you will not get wrinkles on your skin quickly. But the dark side of the olive side is that after getting wrinkles, they will be deeper and give you older looks.
Olive skin also produces a lot of oil which can clog pores. You will have to experience blackheads and pimples most of the time.
You do have to worry about the dryness of your skin, especially in the winter, as olive skin contains a lot of oil.
Which kind of blush looks good on Olive Skin?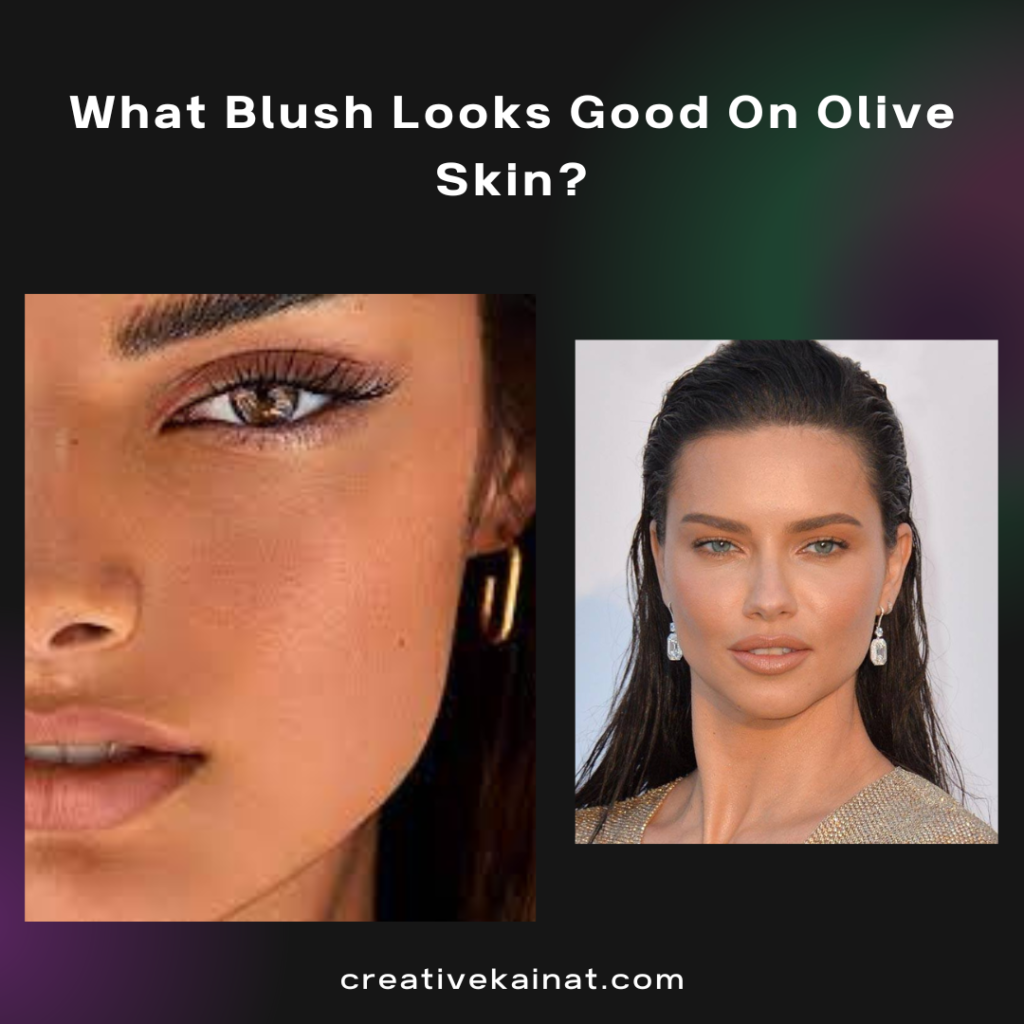 If you have olive skin, you must think while doing makeup because some products will not work well for your skin. If you are thinking of the best blush for oily skin, you should consider the following points.
First of all, you have to choose the blush shade for your skin, but it will be tricky for you to get the perfect shade capable of absorbing oil.
We strongly advise you to go for peachy shades because they are flattering on olive skin, and avoid any pinkish or red shade blushes as they will make your complexion darker and unattractive.
You can also apply an apricot shade on medium skin tone if you have olive skin because it will give you a softer look, and your skin will glow perfectly.
Your plum cheeks will add more glamour to your personality, especially if you have olive skin. Then a plum blush shade will be a perfect choice for you. A sheer plum shade will provide you with more natural and refined looks.
If you want to get bolder looks, then you should go for a warm brown shade because it enhances your skin's features and makes them look attractive.