Dupes for Charlotte Tilbury Concealer
Maybelline Instant Age Rewind Eraser Dark Circles Treatment Concealer
Lancome Teint Ultra Wear Camouflage Concealer
Fenty Beauty Pro Filt'r Instant Retouch Concealer
Rare Beauty Liquid Touch Brightening Concealer
About the Original product
Charlotte Tilbury Concealer is a magical product that can hide all skin issues with one swipe. You can easily blur the pores to get the minimum appearance of them. This concealer blends perfectly with your skin and targets those spots where concealing is required, enabling you to get flawless looks.
Charlotte Tilbury Concealer is ideal for all types of skin, but at the same time, it is a medium coverage product, so if you are looking for full coverage effects, it is not a desirous option.
Maybelline Instant Age Rewind Eraser Dark Circles Treatment Concealer
You will find one of the best dupes for charlotte tilbury concealer in Maybelline, so just try their instant age rewind eraser dark circles treatment concealer and get fantastic results instantly.
Things We Like
It is a full-coverage concealer, so you will get perfect results after using this product.
This instant age rewind concealer does not crease and provides you the flawless looks.
You can easily apply this product to your skin with the help of a soft sponge applicator that comes with this concealer.
Get magical looks for up to 12 hours with the long-lasting formula of this product.
You will not observe any extra shine after using this concealer because it does not contain too much liquid.
It is effortless to apply the product with a soft sponge applicator without extra effort as it blends effortlessly.
Things We Don't Like
There are no cons to this product.
Lancome Teint Ultra Wear Camouflage Concealer:
Lancome Teint ultra-wear camouflage concealer is a high-quality product that can quickly hide all imperfections of your skin. You just have to apply a small quantity of this concealer, and the rest will be done by itself.
Things We Like
It is a lightweight product. So you will get a comfortable and weightless feel after using it.
Lancome Teint ultra wear camouflage concealer is a full coverage product capable of instantly giving remarkable results.
It is a long-lasting product and ideal for long events.
Things We Don't Like
It isn't easy to blend the product on your skin perfectly.
The consistency is very thick, so it is not suitable for beginners.
Fenty Beauty Pro Filt'r Instant Retouch Concealer:
You can also go for Pro Filter Instant Retouch Concealer by Fenty Beauty as an alternative to charlotte tilbury concealer. It has excellent coverage and is capable of providing quick results.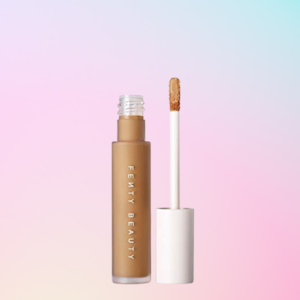 Things We Like
This concealer is based on a lightweight liquid formula to sharpen your looks.
Due to its creamy texture, you can blend it easily.
You will get 50 soft matte shades in this Fenty beauty concealer.
Things We Don't Like
After applying this concealer will experience cakey effects as it gets patchy.
This product creases a lot, so building up the coverage is impossible.
It will not provide you with complete coverage due to its liquid-based formula.
Rare Beauty Liquid Touch Brightening Concealer:
Rare beauty is a well-known brand whose liquid touch brightening concealer is the dupe of charlotte tilbury concealer. It is also an economical product.
Things We Like
You will get medium coverage with the help of this product, so it is easy to get natural looks.
If you have sensitive skin, you can use this concealer as it is parabens-free.
The formula of this concealer does not contain animal ingredients, so it is a vegan product.
Things We Don't Like
Rare beauty liquid touch brightening concealer creases a lot so buy it after considering this drawback.
If you have dry skin, it will not be a good choice.
Conclusion
You can use all of the dupes mentioned above to replace charlotte tilbury. I experienced all of these products as well. If I have to choose any single product, I will go for Maybelline instant age rewind eraser dark circles treatment concealer because it is a complete product with no disadvantages. You will get full coverage with a creamy texture, and this product is easily blendable with the help of a super soft sponge that comes free with it. If we compare it with charlotte tilbury concealer, you can buy Maybelline concealer at an economical price with excellent results.
FAQs
Why is a concealer used?
You can easily hide all your skin's imperfections with the help of a concealer, like age spots, dark circles, etc.
Which is better, foundation or concealer?
Concealer hides all skin imperfections, whereas foundation provides the base for makeup, so if you only want to hide blemishes, you can go for a concealer alone.
Can I use concealer without foundation?
Yes, if you have good skin and only want to blur all imperfections, then you can use only concealer.
How do I choose a concealer color?
It depends upon the foundation because the concealer shade is based on the foundation shade.
Is concealer good for the skin?
Yes, a good quality concealer will help you to hide all blemishes on your skin.
Can I use concealer daily?
Use concealer daily if your skin has clogged pores and you use makeup regularly.
What are the uses of green concealer?
If you have acne scars, pimples, or any redness on your skin, then you can hide it with the help of green concealer.
What can we use instead of concealer?
You can use foundation, powder, or color corrector instead of concealer.
Can lipstick be used as a concealer?
Yes, you can use lipstick as a concealer. But it is not a great idea because lipstick will not stay for long.